---

In Eternal Memory,
this page is dedicated to Chako Kung Fu King
---
Chako, the grandson of Going Light Barney, was a wonderful dog with a personality that often seemed way too human. He was an ace weight puller, and was loved by virtually everyone he met. At parks, he'd end up with a crowd of children and parents around him. They'd play with him and watch him climb slides and jungle gyms.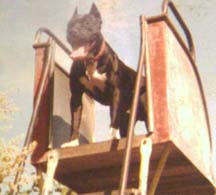 Chako loved people, even though he was sometimes hurt by their biases. When Chako was a pup, he was shot by a man with a BB gun who didn't like Pit Bulls. While the incident caused no permanent physical damage to Chako, it left him with permanent psychological scars. He remained wary of people with large objects in their hand.

Chako loved to climb trees, play fetch, and give rides to children. He loved the water, often diving to the bottom of a lake to retrieve a thrown rock (once in a great while he'd come up with a different rock, but hey, it's hard to see under water).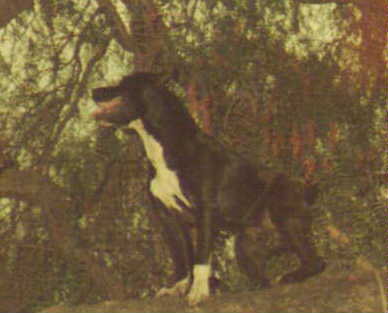 He died in 1993 of "old age".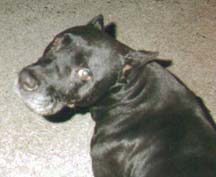 Chako will live in our hearts forever. He was an American Pit Bull Terrier, and one of the best dogs ever to grace the Earth.
Chako's Photo Album

Playing Ball on a Jungle Gym

Almost a pup

Read some stories about Chako.