Rescued Animals
This web page is devoted to the APBT's we've either directly rescued, or helped rescue.

The CRA preferentially rescues purebred APBTs (directly), but we will occasionally help rescue APBT mixes.
Rescued Animal #1
We worked with a refreshingly cooperative shelter in KY where this dog was scheduled for euthanization. He found a nice home with a woman who named him Buddy because "He needed a buddy".
| | |
| --- | --- |
| | Buddy has a wonderful disposition, and stole a few hearts during his stay. He is probably not a purebred APBT, and we are unable to determine the other part of his heritage. |
Rescued Animal #2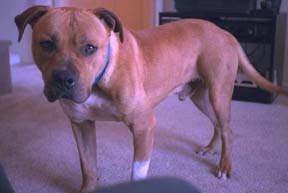 Mox is approximately 1 year old. He's a tan and white purebred APBT with a wonderful personality and the sweetest face. We found him in Austin, TX (got a call from some people who found him and fell in love with him - unfortunately they couldn't keep him). He had a few wounds on his neck and body, but they should heal nicely. We fixed him up and fitted him with a microchip so any shelter in the nation can identify him. He now lives with a nice man who was fortunate enough to find himself a great companion.
Rescued Animal #3, Woody
Woody is an approximately 1 year-old male APBT mix. While we primarily rescue purebreds, we will occasionally take in mixes if their expenses are paid. The woman who found Woody sponsored him. He found a nice home with a family where he gets plenty of attention!
Rescued Animal #4, "Chancie" (Clover)
Chancie was not an official rescue dog, but she was a 4 month old Pit Bull/Husky mix who we found running along the side of the road. Because the local shelter will not adopt out APBTs, we took her in and found her owners (who informed us that her real name is Clover).
Rescued Animal #5, 8 week-old puppy
This brindle puppy was tossed from a car window in Long Beach, California. It was turned into the Long Beach Animal Shelter which, unfortunately, has an anti-pit bull policy and scheduled the puppy to be euthanized. They refused to release it into our custody. We spent many hours on the phone with the shelter, the city manager, and the office of Health and Human Services, and the shelter delayed the euthanization and decided to transfer the puppy to another shelter (Harbor Animal Services). Fortunately, the Harbor shelter agreed to release the puppy, which has since found a new home.
Rescued Animal #6, Carla
Carla is an adult female with a very sweet personality. She was placed in our custody by an animal shelter in Kileen, Texas, and she has found a new home with a woman on the East Coast.
Rescued Animal #7 Bailey
Bailey is an adult male APBT who was rescued from the local animal shelter and diagnosed with heartworms. He was adopted by a young College Station couple and his condition is now being treated by the LOVAN CARE ANIMAL CLINIC at a substantial discount.
Rescued Animal #8, Eva


Eva and Petey (below) were both brought to us by a student in Austin who found them and took them in. Eva is an active, healthy dog who loves to play fetch and run outside.

She now lives with a woman in Ohio who absolutely loves her.
Rescued Animal #9, Petey

Petey is an APBT mix and was diagnosed with heartworms. His condition has been successfully treated and he now lives with Misty and Hershey (a woman and her sheltie) in Bryan, Texas.

Petey is a sweet dog who knows how to "sit" and "come", among other things. He gets along pretty well with other dogs, and is great with children.

Petey is shown here getting a bath from his new owner.

Dogs rescued by our Austin Texas Branch.


The Austin Texas Branch of Chako Rescue has successfully placed over 50 APBTs & APBT mixes. Most of the dogs were rescued from the county shelter where they would have been euthenized. The others were rescued from the streets.

The most heartwarming rescue story is that of Roosevelt. He was rescued from the streets when he was 8mos old. He had a severely injured foot & his leg had to amputated. He was very brave & was adopted by a loving family in Arizona. He now lives a wonderful life with two other pit bulls. He is pictured above.