The CRA APBT Service Dog Program
We have a service dog program, which, unlike the ADA definition of a service dog, encompasses training dogs not only to assist persons with disabilities, but also to perform animal-assisted therapy. Hence, for our purposes, service dog includes both therapy dogs and ADA service dogs. Petey and Fitz (below) are both currently in training as service dogs (fitting the ADA description). We are also initiating a program to train and donate rescued APBTs of suitable temperament as ADA service dogs for persons with disabilities.
Fitz, our ambassador, and Petey (a rescue dog) visit nursing homes and hospitals around the Brazos Valley. This service dog program is the first of it's kind in the nation because it uses American Pit Bull Terriers.
From Left to Right
Misty, Petey, Fitz, and Dawn at the University Hills Nursing Center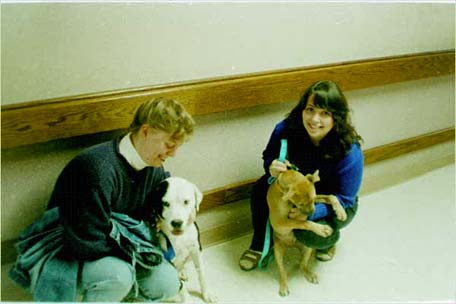 If you live outside of the Brazos valley and would like to get involved in our service dog program (i.e., you have a sweet-tempered and obediance-trained APBT you'd like to have visit your local nursing homes and hospitals) please contact us.
We will be updating this site with photos of Fitz and Petey performing their extremely rigorous service duties, which include getting hugs from the residents and lots and lots of attention from everyone! It's a tough job, but they're up to the task.
Fitz and Petey aren't the only APBTs doing pet therapy work!
This is a picture of another APBT doing the rounds.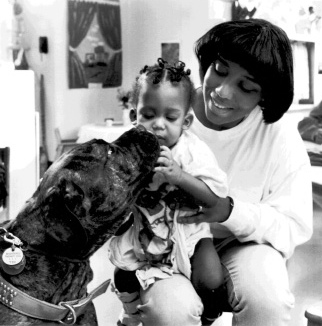 ---
Dawn Capp
dawnc@bigfoot.com
1851 Donax Ave
San Diego, CA 92154
United States
---

This page has been visited
times.