Rally Pictures
Richard, Amy, and Bruce
This was a mess-up picture, notice Richard's way-cool expression *smirk*
---

Me at the Rally signing the "I was here" poster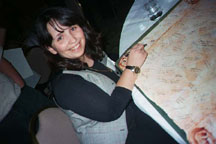 ---

From L to R: Nagia (my sis), Dawn (that would be me), Garett, Tae, WolfPup (Tonya)
Yep! You missed horseback riding with Garett. *grin*
Just kidding. The real gal prefers to remain anonymous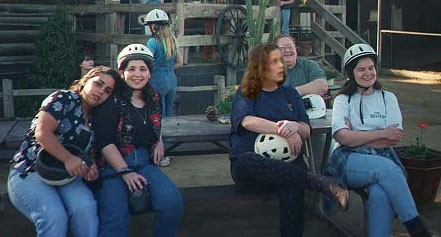 Nagia Dawn Garett TAE WolfPup (Tonya)
---
PIGLET
Our Guide on the horseback trail had this probable PIT BULL mix (Piglet) that
needed a family, and she asked me (the Chako Rescue Association) to help find Piglet
a home. I'm happy to report that Piglet has, indeed found a nice home! In thanks,
the woman sent me a box of WB goodies (including a nifty pen and T-shirt!). *grin*
The woman had never heard of the Sentinel, but now she knows about it! Believe me!